Update 3rd July 2020
Update 3rd July 2020
3 July 2020 (by Vicky)
Update for Parents and Carers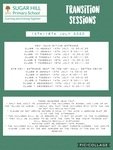 Dear Parents/Carers Friday 3rd July
As always thank you for your messages of support again this week which are so greatly appreciated by myself and the staff.
Yesterday the DfE published guidance on the full return to school in September. This is 35 pages long and over the coming weeks I will be working with Senior Leaders to make sure this guidance is fully implemented. There will undoubtedly be changes to the school day, including staggered start and pick up times but I will write to you over the next two weeks to make sure you are fully informed. There are also plans in place in case we could not open, these will also be shared before the Summer.
In the meantime, I realise that although the children will not get their transitions as normal, I would like to offer them some face to face time in school before September. We could try to call each child but this is not the same as seeing them.
Therefore, I am proposing that in the week beginning Monday 13th July all children from Reception to Year 5 can spend 2 hours in school with their current teacher and their new teacher for September. Although there will be staff unavailable due to personal circumstances we will still invite all children in. We are also limited to certain spaces so the children will not be in their new classroom. However, the children will have chance to gain some closure to this year, see their friends and meet their new teacher. Reports will also be given at this time.
This is still your decision as to whether you want your children to take part but please be assured we will be following very strict safety measures already in place. If you do not wish your child to attend these sessions we will give you a time to pick up reports.
As the children will be in groups of 15, different classes will have different days and times. Times are staggered to miss the children already in school.
KS2- MAIN OFFICE ENTRANCE
Class 12 Monday 13th July 12:30-2:30
Class 11 Monday 13th July 9:30-11:30
Class 10 Tuesday 14th July 12:30-2:30
Class 9 Tuesday 14th July 9:30-11:30
Class 8 Thursday 16th July 12:30-2:30
Class 7 Thursday 16th July 9:30-11:30
EYS/KS1- ENTRANCE NEXT TO THE KS1 HALL- BOTTOM DRIVE
Class 6 Monday 13th July 12:30-2:30
Class 5 Monday 13th July 9:30-11:30
Class 4 Tuesday 14th July 12:30-2:30
Class 3 Tuesday 14th July 9:30-11:30
Class 2 Wednesday 15th July 12:30-2:30
Class 1 Wednesday 15th July 9:30-11:30
These measures mean that:
Only one adult to accompany the children to school and lin

e

up on the yellow 2m marks

- I would ask that your children stay with you and do not mix while waiting

Please do not arrive before 9.25am if you have a morning slot or 12.25 for the afternoon

The children will be in groups of 15 sat 2m apart in the classroom

They will be allowed to go into the yard to see their friends but will remain socially distanced

Nothing must be brought into school

The children will be brought out to meet parents/carers, can adults please line up by the red markers on the fence at the end of the session
If you have any questions at all please email the school at sugarhill@durhamlearning.net
I understand that some parents/carers and children will be very unsure about this but I do think the fact that the children are setting foot back into school to see how different it is, may help before they return in September.
Children already attending school in YR, Y1 and Y6 will take part in these sessions.
Year 6 are not missing out. I propose that Year 6 come in for one hour on Friday 10th July in order to collect their reports and tee shirts
Class 13- 9.30 until 10.30am – Main Entrance
Class 14- 11 until 12noon- Main Entrance
All measures as above will be in place.
We are also organising an Award Evening in September so they can see each other and have final closure. The proposed date will be Thursday September 24th at 5pm.
I really don't want to be writing that we are in this lockdown position again but please be assured that plans are in place if the worst did happen. As a school we have learned lessons and taken on board feedback so that we can have appropriate systems in place. Hopefully I will not need to share these with you.
I certainly hope that we can see the children during this time, we have missed you all so much.
Thank you for your continued support
Take care and continue to stay safe
Mrs Paula O'Rourke